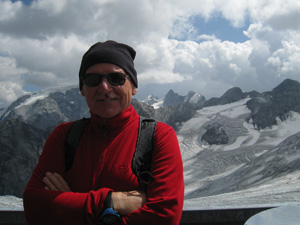 Who am I?
I live between Milan and Lecco in that part of Lombardy (Northern Italy) called Brianza, at the feet of the Lombard Pre Alps. From my window I can see the top of some of the Pre Alps like the Grigne and the Resegone. I was born here on February 7th of a year long long ago.
My hobbies are walks on mountain, the computer and photography. From this union was born this site. In fact I wanted to see if I could start from scratch to create a good site. I do not know if I succeeded, and of course it is possible to improve it more and more.
When I'm not sitting in front of my PC, I spend my free time roaming around mounts and huts. In fact only in the Lombardy I have up to now visited, at least once, 580 between huts and bivouacs.


My photo camera, a Canon digital Ixus follows me everywhere and I take hundreds photos. Some of the best ones end up in this site and the majority in the trash can.
Someone tells me that I have placed in DISKA's PHOTOS a few photos of the sea. Really I love the mountains above all. The satisfaction to reach a hut, after a long walk, is enormous and when finally I sit down to the table for a supper, even though it is simple, I feel I have truly earned it!
How can one be able to say the same thing in a pizzeria after spending the whole day lying on a beach?
However I'm not a fanatic of the mountain at all costs. I like to walk slowly, to breathe pure air, to listen to the thousand noises of the mountain and the animals that inhabit it, take some photos of the panoramas and the flowers that I meet (don't pick them, so who ever passes after has the right to admire them). Moreover the relax, the peace and the sound of silence are invaluable.
Yes, I know that not everyone thinks like me... Bye bye.