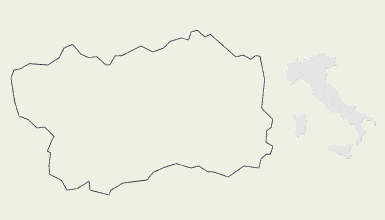 This is a lateral valley of the Aosta Valley (North of Italy).
Multiple lateral valleys detach themselves from the main Cogne Valley floor, named the Grauson Valley to North; the Urtier and the Valleille Valleys to East; and the Valnontey Valley to South that ends in front of Mount Gran Paradiso (4061mt) the only Alpine Mountain, with more than 4000mt, fully located in the Italian territory.

The streams flowing down these valleys join the river Grand Eyvia (= large water), which then plays into the Dora Baltea river, a little above the Aymavilles village.

Many are the peaks which crown this valley, among which the highest are Mount Gran Paradiso (4.061mt), Mount Roc (4.026mt), Mount Grivola (3.969mt), Mount Piccolo Paradiso (3.923mt) and Mount Cresta Gastaldi (3.894mt).
The lower part of these mountains is covered with conifer woods while in the upper part there are rocks and glaciers.

A large part of this valley is located inland the National Park of Mount Gran Paradiso, and so it is not difficult to meet wild animals: chamois, ibex, marmot, eagle, fox.

The main sporting activity is the cross country skiing. There are more than 70km skiing loops (St. Orso, Valnontey, and near Lillaz or Epinel), with tracks winding through woods, mountain streams and bridges, for a full immersion in a completely uncontaminated landscape.
The valley also offer interesting foot itineraries on battered snow, or romantic and enchanted sleigh rides.
There are more than 150 icefalls for all the dauntless lovers of adventure and thrill.

The well-known Hut in the area is Vittorio Sella Hut (2584mt - Valnontey Valley), reachable by a 2:30 hours' walk on a large path.

The main villages are Cogne (in the centre of the valley) and Aymavilles (at the entrance of the valley). These are of course much smaller than towns but extremely picturesque.
Mountain Wallpapers: Val di Cogne