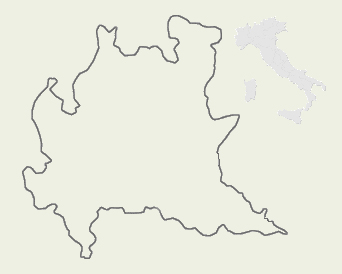 Valchiavenna is located in the western part of the province of Sondrio (Lombardy/North of Italy). Chiavenna, this valley's main town, still partially preserves its medieval aspect thanks to its typical crotti, antique, natural cellars nowadays converted into characteristic taverns.

Its three main valleys begin here:
- the Lower Valchiavenna, crossed by the river Mera, rising towards the Lake Como and along lakes Mezzola and Pozzo della Riva;
- the Italian Bregaglia Valley, all the way to the Pass of Maloja in Engadina;
- the St. Giacomo Valley, which climbs up to the Pass Spluga and passing near Madesimo, a popular skiing center and widely renown town of this valley.

Valchiavenna has always been one of the most important communicating routes connecting the Po Valley and the Rhine Valley, once widely used by the flow of soldiers or merchants, and now of tourists.

For hikers, is very interesting to trek the old paths climbing over the Alps, to see the ancient rural stone-built or wooden huts and the mountain pastures where herds of horses and cattle are still bred naturally.
All this is surrounded by breathtaking views of mountain peaks, lakes and waterfalls. Especially noteworthy are the twin falls of Acqua Fraggia, cascading down from Savogno, an old village still inhabited which can only be accessed on foot.
Mountain Wallpapers: Val Chiavenna